For every parent, their children at their topmost priority. They are always concerned about their health, happiness and success. Therefore, knowing and following Vastu for children bedroom is very important so that the energies around them are positive.
This post talks about Vastu for kids room in detail. Children room Vastu tips have also been shared in terms of Vastu bedroom location, study room Vastu, Vastu for child's education to make sure that you create most effective spaces for your kids.
Must follow Vastu Tips for Children Room and Child's Success
Understand the complete guidelines of Vastu for kids bedroom. Follow these Vastu tips for your children's bedroom to create an atmosphere of positivity and growth around them:
Vastu for kids: Bedroom Position
West direction is the most suitable corner for having kids' bedroom.
South- West direction is the most inappropriate direction for children's bedroom.
Children Vastu: Position of Bed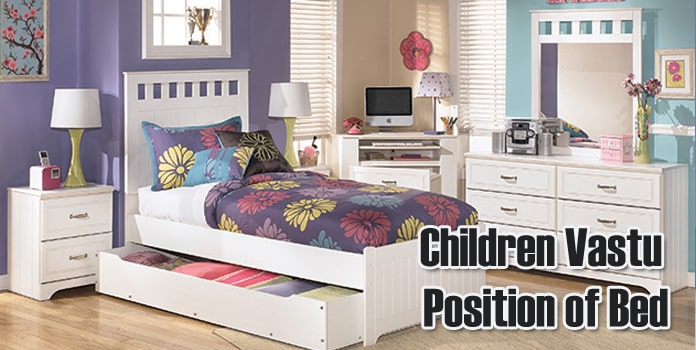 The best placement of bed is in South-West direction.
Make your child place his head in East or South direction.
Go for beds made with wood only.
Never have the bed placed under the beam.
Read also: How to Change your Child's Behavior by Astrology
Vastu for Children's Study Table
Have your child face North direction while studying.
North direction improves concentration and keeps his mind positive and healthy.
Placement of Mirrors – Vastu Tips
Never place the mirrors in front of the bed.
Reflection in mirror while sleeping on bed is strictly against Vastu Shastra principles.
Kids Vastu for Bedroom Furniture
Place cupboards in South or West walls of the room.
Don't place the furniture adjacent to the walls. Maintain a gap of few inches to let the positive energy flow smoothly.
Avoid placing any furniture in the center of the room as it obstructs the flow of energy in the room.
Light Position as Per Vastu
Let the natural light fall in your child's room for positive atmosphere.
Always have the South-East corner lit properly.
Placement of Doors and Windows
The entrance of the room should be in North or East.
The door should be a single shutter.
Door should not directly face the bed.
Windows must be in East or North to allow fresh air coming in room.
Colour Combination for Kids Bedroom According to Vastu
Colours on the wall should be refreshing and positive.
Shades of blue, green and white make a perfect combination for walls of your child's room as it improves energy and maintains peace and happiness.
Vastu tips for son's bedroom suggest using blue colours on walls and in interiors.
Kids Bedroom Vastu Guide: Book Racks and Storage
The rack of books or any kind of storage must be in the West or South direction.
These racks or storage should be made of wood.
Metal racks cause negativity.
Vastu Shastra Tips: Kids Room Decor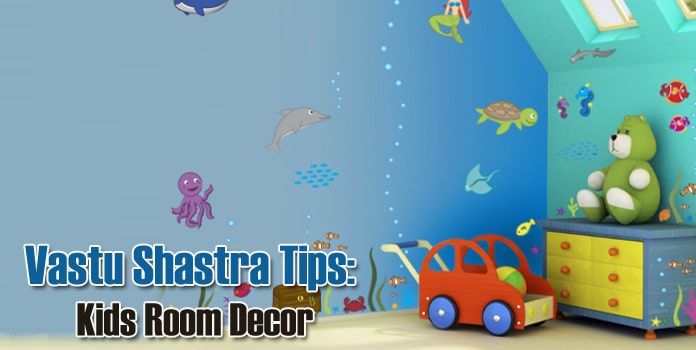 Do not have any television in kid's room as it affects their power to focus.
Keep the décor simple and room free of clutter.
Do not have sharp lights on study table.
Avoid having too many gadgets installed in your kid's room as they create negative energy.
Avoid placing wildlife stuff toys in the room as per Vastu for boy or girl bedroom
Astrologer Gupta offers best Vastu Consultancy Services in Jaipur, Delhi, Noida, Mumbai, Pune, kolkata, Bangalore, All over India and worldwide like, USA, UK, Canada, AUS, for your Vastu query. Contact us at +91- 9828072791 or email us [email protected]
If you wish, you can also see these Vastu tips
Vastu Tips To Considering While Purchasing a House
Vastu Tips For Having a Positive Home
Vastu Shastra Tips for Perfect Home